A Frenectomy Could Make Speaking and Eating a Lot Easier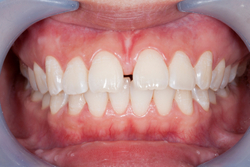 If you have ever heard the expression tongue-tied, you know that it happens when someone is so shocked or scared they can't speak. While the expression is usually used in fiction, the notion of being tongue-tied is very real.

There are people who have difficulty eating or speaking because their tongue doesn't move much. If you are one of those people, you may need a frenectomy. Not sure what that is? Let us give you some information.


What Is A Frenectomy?
Your tongue is attached to the bottom of your mouth by a piece of skin. The flap of skin has to be just the right length to keep the tongue attached, but if it is too short, you may not be able to move your tongue enough to talk or speak.

A frenectomy is a simple procedure. We can either clip the skin to allow the tongue to move more freely, or we can trim it with a laser. Either way, after a frenectomy, you will be able to move more freely.


How Can I Tell If I Need A Frenectomy?
There are some signs you or your child need a frenectomy. A baby may have trouble breastfeeding. You might also hear a clicking sound when someone is sucking a nipple or a bottle. Often, frenectomies are used in infants to make feeding time easier. If you are an adult, or you have an older child there may be times when you have trouble getting your words out, eating, or drinking.

You may also get accelerated tooth decay and wear patterns from overusing your mouth to qualify for a frenectomy. You could have recessed gums, and problems with eating, drinking and speaking are side effects of being tongue-tied.

Do you have questions about frenectomies? Why not give us a call? We would love to talk to you about the procedure.