Benefits of Dental Implants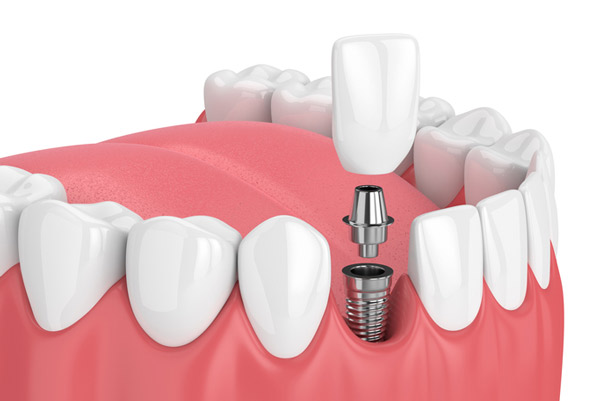 Accidents happen, and sometimes they leave some permanent damage. You may end up falling and losing or chipping a couple of teeth. However, you no longer have to live with lost or chipped teeth all of your life. Thanks to modern science and technological innovation, restorative dentistry has come a long way, and now you can get permanent replacements for damaged or missing teeth. At Watermark Dentistry, we aim to provide our clients with the best possible treatment for all of their oral and dental healthcare requirements. Our go-to solution, especially for missing teeth, is dental implants. They offer numerous benefits over other available options.


What are Dental Implants?

When you lose a tooth, the damage extends to the roots. If left untreated, it can even extend to the jaw bone, causing substantial problems for the patient later on. A dental implant serves as a replacement for the root and acts as an anchor for the artificial tooth that is connected to the implant with the help of an abutment.


Benefits of Dental Implants

A dental implant replaces the whole structure of the tooth. It is a longer procedure than other restorative dentistry treatments, but it offers numerous benefits.

| | |
| --- | --- |
| • | Improved appearance – a dental implant, when completed looks exactly like your natural teeth. The titanium implant is securely embedded in your bone and covered by your gums like the teeth's roots. Thus it doesn't take away from the aesthetic appeal of an implant. |
| • | Preserves the bone – The roots are not just essential for the tooth. They also connect the bone to the tooth, keeping it connected to the rest of the dental structure. The implant performs the same function and helps keep the bone safe by reducing the risk of bone loss. The implant also prevents the risk of infection in the bone by covering up all openings. |
| • | Improved speech – Crowns and dentures are tooth-supported fixtures, and thus they sit a little awkwardly over the existing dental structure. An implant, however, is secured firmly into the bone to fit like your natural teeth. |
| • | Low maintenance – A dental implant functions just like your natural teeth and has the same maintenance and care requirements. You don't even have to come in for a touch-up as you will need to with a crown, as an implant is a permanent fixture. Brush twice daily, floss regularly, and you should be good to go. |
| • | Cost-effective – Crowns have a lifespan of two to five years. Some of the cheaper material options are also not as durable and may chip even earlier. Where dental implants have a higher initial cost, they last a lifetime, and you don't have to worry about replacement or maintenance costs, making them a more cost-effective option. |
| • | Durable and comfortable – an implant can bear the same amount of weight your natural teeth can. You can bite and chew as you normally would, without worrying about your teeth chipping or loosening. They are also a lot more comfortable than crowns as they fit within your natural dental structure effortlessly. |

If you find yourself asking, 'am I a candidate for a dental implant?' Reach out to Watermark Dentistry for a consultation. We can guide you through the implant procedure, implant materials, and answer any questions you may have.