Dental Crown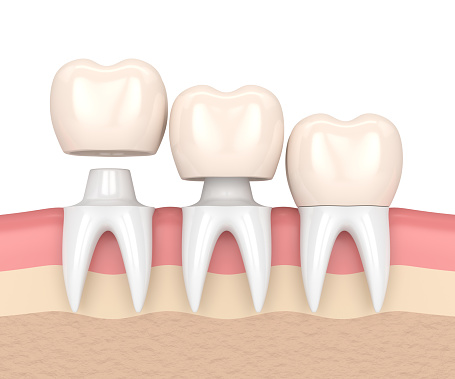 Here at Watermark Dentistry, we can help with all types of dental procedures. This includes dental crowns which, along with many other forms of corrective dental procedures, have increased in popularity in recent years. This dental treatment, sometimes referred to as a dental cap, is a form of dental restoration that encases the tooth at the tip of the tooth.

One of the main reasons for getting crowns placed is due to large cavities, which may threaten the long-term health of the tooth. When a cap is placed, we are essentially cutting off the damage from day to day processes such as food and drink. This will help prolong the life of the adult tooth. They work to strengthen the tooth and improve the appearance of your smile as well. A crown can be attached using dental cement, similarly to veneers.

Initially, after the first consultation to advise the best avenue of dental correction for you, we will take a dental impression which we can then use to fabricate the crown at a later time. At your next appointment, the outer layer of the tooth will be removed to provide us with the perfect surface to attach the crown. The crown will be of the same thickness as the layer which has been removed. Our technician has already prepared your crowns to best match the color of your teeth so that it may blend in perfectly.


Different Materials

Crowns are usually made from either porcelain or ceramic which are most easily matched to the existing color of your teeth. For back teeth, which are not easily noticed, metal alloys or gold may be used instead. This may not match the color of your teeth, but provide a lot more stability as it is a much stronger material. In many cases, porcelain fused to metal alloys is used as it is both strong and matches the appearance of the rest of the teeth. On some occasions, we will fit a temporary crown until the permanent one has been fabricated.

The main advantage of crowns is that they will protect teeth which have been formally weakened or broken. They can also improve the appearance of teeth which have been stained significantly or are misshapen in some way. If cared for properly, as we will explain to you once your crowns have been placed, then they can last for several years without any issues.

There are a few alternatives in addition to dental crowns, which we can look at before deciding what would be the best procedure for you. Veneers will help with discoloration and layer onto the existing teeth, and if we are able, then teeth that are chipped may be reformed using filling material.

Crowns are a very popular procedure among our clients. If you would like information about crowns, call our experienced professionals here at Watermark Dentistry at (206) 242-5808 today.